Hi Everbody..
i am approaching this with caution i used to have a blogger blog and left cos i could never post pics successfully
i finished the first page over the weekend , i put a pic in the yahoo group, but i have added it here too to see if i can post a picture successfully ( you are all the guinea pigs!!)
i also just started the ornament martina posted today, but no picure yet as it took me more than an hour to choose which silk to use! i am stitch in it 1x2 on 50 ct white legacy linen using HDF silk in oxblood
my Spot Sampler is being stitched 1x1 on cream 35 ct linen from HDF using the HDF Sue Purple series as well as some LE varigates from the range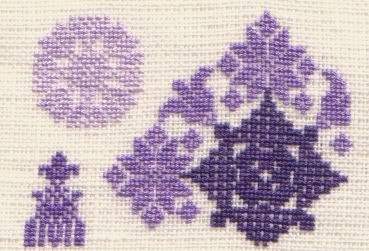 I can't wait to stitch the next page, though i am not sure i will be able to keep it at a page a week , maybe a page a fortnight!